Candied bacon can be used as an appetizer by itself or as an ingredient in other dishes. We used it for a Game of Thrones finally party with friends as part of Deviled Dragon Eggs (some roughly chopped in the deviled egg mix with a small piece sticking out of the top.)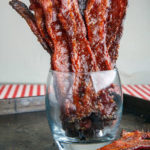 Candied Bacon
Quick and sweet bacon candy for snacking or to add to other dishes
Ingredients
4

strips

Bacon

2

tbsn

Brown Sugar

1

tsp

Cayenne Pepper
Instructions
Heat over to 350.

Mix Brown Sugar and Cayenne Pepper in a bowl.


Lay Bacon on parchment paper closely packed together

Thinly coat both sides of the bacon with sugar mix.

Place bacon on a rack on a baking sheet, cook for 10 minutes, flip over and cook for another 10 minutes. Remove and let cool.

Serve as full pieces, or chop and add to deviled eggs or other dishes that could use some sweet and tangy bacon flavor.
Recipe Notes
Increase sugar and pepper as needed for more bacon